Types of Rugs and Their Cleaning Requirements
Rugs are an important and versatile part of the home. They provide warmth, texture, and color to our living spaces. But too often they get overlooked when it comes to regular maintenance-and that can have serious consequences for your décor! If you're a residential client in Clifton, NJ, then this article is for you. We'll discuss the types of rugs out there and share tips on how best to keep them clean and looking their best over time.
Handmade Oriental and Persian Rugs
Handmade Oriental and Persian rugs are valued and beloved treasures in any home due to their intricate artistry and delicate fibers. These rugs demand great care during cleaning to keep their excellent beauty. Feet Up Carpet Cleaning of Clifton understands the need to use gentle cleaning procedures to avoid hurting the delicate fibers of your rug.
Traditional handwashing or professional cleaning is recommended for these rugs to avoid color bleeding and fiber damage. You can trust us to treat your Oriental and Persian rugs with the highest care and attention, leaving them vibrant and attractive for decades to come.
Wool Rugs
Wool rugs are popular because of their natural toughness and durability. They are a popular choice for many households due to their ability to repel stains and preserve their appearance over time. Wool rugs, like all rugs, require regular washing to keep them fresh.
We recognize the need to employ expert cleaning procedures for wool rugs at Feet Up Carpet Cleaning of Clifton. To successfully remove dirt, dust, and stains while being gentle on the natural wool fibers, our skilled team employs steam cleaning or hot water extraction techniques. You can ensure that your wool rugs remain a lovely and pleasant addition to your home by entrusting them to us.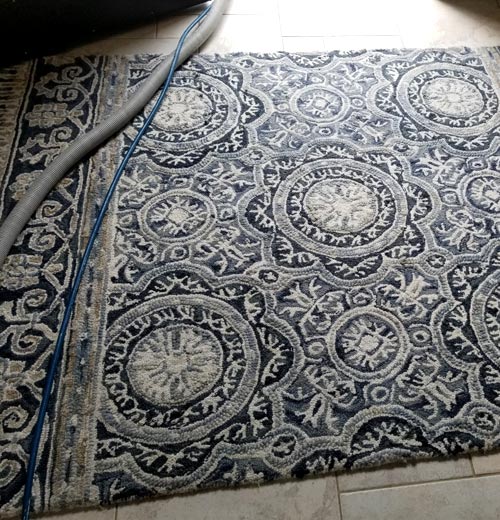 Synthetic Fiber Rugs
Synthetic fiber rugs, such as nylon, polyester, or polypropylene, are popular due to their durability and stain resistance. These rugs are an excellent choice for high-traffic areas as well as households with dogs and children. However, even synthetic fiber rugs require frequent cleaning to maintain their beauty and longevity.
Feet Up Carpet Cleaning of Clifton advises professional cleaning services for synthetic fiber rugs. Our expert cleaning methods and equipment ensure that your rugs are free of deep-seated filth and grime, keeping them looking fresh and vibrant for years.
Natural Fiber Rugs
Natural fiber rugs, such as sisal, jute, and seagrass, are popular due to their distinct texture and environmental friendliness. These rugs add warmth and sophistication to any room. They do, however, collect more dirt and debris than other types of rugs due to their rough surface.
Regular vacuuming with a brush attachment is required to keep your natural fiber rugs in good condition. Furthermore, we provide skilled rug cleaning services to remove entrenched filth and restore the rug's natural appeal.
Antique or Delicate Rugs
Antique or delicate rugs hold immense value and historical significance, making them precious possessions. These rugs require extra care and attention during cleaning to preserve their beauty and integrity.
For antique rugs, it is best to avoid DIY cleaning, as improper methods can cause irreversible damage. Instead, entrust the cleaning process to experienced professionals like Feet Up Carpet Cleaning of Clifton, who have the knowledge and skills to handle these treasures delicately. Our specialized cleaning techniques, such as handwashing or low-moisture cleaning, ensure that your antique rugs retain their value and beauty for generations to come.
Understanding the Importance of Proper Rug Cleaning
Maintaining the cleanliness and condition of your rugs is essential for improving the overall appearance of your home. You can preserve the longevity and beauty of your rugs by understanding their cleaning requirements.
Feet Up Carpet Cleaning of Clifton is the area's go-to professional rug cleaning service. We take pleasure in our knowledge and experience in managing a wide range of rug varieties, from delicate Oriental rugs to long-lasting synthetic fiber rugs. Our expert professionals understand how to clean and care for your rugs, ensuring they continue to be a source of beauty and comfort in your home.
Remember, when it comes to rug cleaning in Clifton, NJ, you can rely on us. Call us today at 973-692-6090 to make an appointment and enjoy superior rug cleaning services that will leave your rugs looking clean and refreshed.